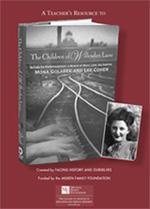 Facing History and Ourselves, in collaboration with the Los Angeles Museum of the Holocaust, has sponsored educator workshops this summer on the Holocaust and The Children of Willesden Lane by Mona Golabek and Lee Cohen. This book tells the story of Lisa Jura, Mona's mother, as a Kindertransport survivor. Teachers will receive copies of The Children of Willesden Lane for their students, be invited to tour the the museum, and attend concert performances by Mona Golabek at the Dorothy Chandler Pavilion in October.
One of the lessons The Children of Willesden Lane teaches is about the complexities of living during a time when Jewish people were faced with a decreasing range of choices in Nazi Germany leading to the Holocaust. Lisa Jura's story teaches us what it means to be a refugee, to be alone, and nationless. Even though she escaped the concentration camps, she was not spared the pain of her parents' deaths and the concern over the fates of her sisters. I am reminded of the point in the book where the war has ended and Lisa's schoolmates are celebrating in the streets. The end of the war marked the beginning of a devastating time for Lisa and her Jewish friends who had to find out what had happened to their family members outside of England. The story beautifully ties together the themes of family and history.
Why is it important to learn about this history?