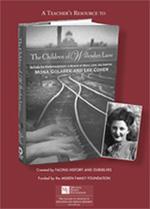 Facing History and Ourselves, in collaboration with the Los Angeles Museum of the Holocaust, has sponsored educator workshops this summer on the Holocaust and The Children of Willesden Lane by Mona Golabek and Lee Cohen. This book tells the story of Lisa Jura, Mona's mother, as a Kindertransport survivor. Teachers will receive copies of The Children of Willesden Lane for their students, be invited to tour the the museum, and attend concert performances by Mona Golabek at the Dorothy Chandler Pavilion in October.
One of the lessons The Children of Willesden Lane teaches is about the complexities of living during a time when Jewish people were faced with a decreasing range of choices in Nazi Germany leading to the Holocaust. Lisa Jura's story teaches us what it means to be a refugee, to be alone, and nationless. Even though she escaped the concentration camps, she was not spared the pain of her parents' deaths and the concern over the fates of her sisters. I am reminded of the point in the book where the war has ended and Lisa's schoolmates are celebrating in the streets. The end of the war marked the beginning of a devastating time for Lisa and her Jewish friends who had to find out what had happened to their family members outside of England. The story beautifully ties together the themes of family and history.
Why is it important to learn about this history?
Post your response below. The following is my response to that question:
In my opinion, it is important to learn about the Kindertransports in order to give students examples of people and nations that chose to be upstanders. England as a nation transported Jewish children to escape the Holocaust, but there are also many other examples in The Children of Willesden Lane of neighbors and everyday people helping others in whatever way they could. Standing up and helping others individually and as a nation is powerful. Amidst all of the chaos and cruelty of the war, the story shows glimmers of humanity and hope. It is important for students to know that there are many examples of upstanders in history and that it is possible for them to also be upstanders in our current society.
Stories such as Lisa Jura's bear witness to parts of history we would never otherwise know. In my study of history in high school and college, the Kindertransports were barely mentioned. Also, it seemed that the story of WWII concluded when Germany was defeated by the Allies. However, because of memoirs and testimonies such as Lisa Jura's I know now that the story doesn't end there. In the million tragic stories that we hear about the Holocaust, Lisa Jura's story stands out as a message of hope, of summoning the will to live and to thrive, and to help others when the world is at its bleakest.
What is one way that students can make a personal connection to The Children of Willesden Lane?
Writing can be a great way to respond to a piece of literature. If you have attended the Willesden Read workshops at the Museum of the Holocaust in Los Angeles, you have received the Teaching Guide for the book. I want to highlight some writing prompts that might be engaging for various grade levels in exploring the theme of family.
The following writing prompts can serve as a basis for an extended writing project that could include artwork, family interviews, and various forms of presentation of student work.
Upper Elementary
Mementos (page 27)
Lisa cherished the photograph of her mother she brought to England. If you had to leave your home and were allowed to only take a few items of importance with you, what do you think you would take? What is the significance of the item or items you chose? Write a paragraph describing each item and what it means to you.
Middle School
Family Stories (page 44)
Invite students to write a story that has been passed down in their own family. Encourage them to think about how they learned the story and why it has special meaning to them. In planning their story, students should try to answer the following questions:
What happened? 
Why did it happen?
 What were your thoughts about the story at the time it happened or when you first heard it? What are your thoughts about the story now?
 What lessons does your story teach others?
High School
Legacies (page 44)
A legacy is often defined as a gift from one generation to those that follow. Discuss the legacy Lisa Jura received from her mother and how she passed it on to her children and grandchildren. Then invite students to share a legacy they received from a family member, friend, neighbor, or teacher. It might be a musical legacy much like the one Lisa Jura gave her family. It might also be a skill like cooking, gardening, or carpentry; a hobby like stamp collecting or building model airplanes; or a special memento. Encourage students to explain the significance of the gift they received and how they plan to pass it on to the next generation.
We'd like to have you share your students' writing pieces based on these prompts! Please post your student work below.
For more information on The Children of Willesden Lane and for other educational resources visit Facing History's Children of Willesden Lane resource page.
---
UPDATE November 30, 2018
I would like to thank Mike Wulf from John A. Sutter Middle School for sharing his students' book projects. He incorporated student choice into the final projects for The Children of Willesden Lane. His students had the choice of creating skits, news reports, movie posters, poems, and movie soundtracks for the book. Below is a sample description for the piece Clair de Lune by Claude Debussy:
We choose this song because we felt like it explained [Lisa's] emotions. The way it started off slow (Lisa's worriedness) and slowly but surely started to get jumbled up. And slowly going back to the slow tempo, with an element of sadness. Just how she felt when she was on the Kindertransport.
Also, this is a diorama (that plays piano music) to depict Lisa's debut show in London:
We would also like to honor the elementary school students in Ms. Kim Kye's class at Ninth Street School for their creative work with art and writing around the Willesden Read.
Since they class finished reading the book and attended the performance at the Dorothy Chandler Pavilion close to Dias de los Muertos, (Mexican Day of the Dead), they made our own ofrendas (or offerings) to the characters in the book. The students had to choose up to 5 objects that represented or symbolized the character they chose. They wrote an essay on why they chose those objects and what they represented. Included are some photos of the ofrendas (the ones pictured here are called nichos).